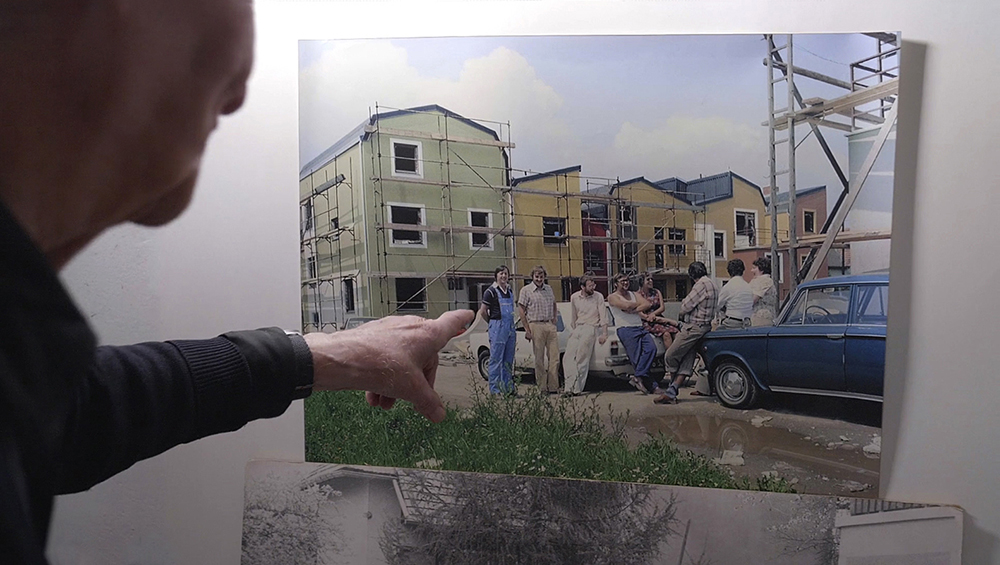 My Dreamhouse is Daydreams
2019, HD 49 Min, German with English subtitles
Please find the trailer and VOD version
here
With:
Eilfried Huth, Doris Pollet-Kammerlander, Irmfried Windbichler, Inhabitants of Gerlitzgründe
Funded by:
Bundeskanzleramt Österreich, Land Steiermark – Cine Art, Stadt Graz
Winner
of the Acquisition Prize as part of the "Contemporary
Visual Art Award Of The Province of Styria (AT), 2019
curated by Rada Iva Jankovic
Collected by
Neue Galerie, Universalmuseum Joanneum, Graz (AT)
in cooperation with Ulrich Reiterer
"My Dreamhouse is Daydreams" focuses on the housing estate Gerlitzgründe in Puntigam/Graz by the Austrian architect Eilfried Huth from the 1970s.
Huth believes authentic aesthetic experience to be possible through a personal relationship with objects. In the 1970s, Huth was among the first Austrian architects to bring collaborative and participatory design, planning, and building processes to publicly funded social housing projects.
Huth's Austrian social housing projects were unique because no possibility of a participatory approach had previously existed outside the privately financed market. The working method he developed provided for a form of collaboration where architects and prospective residents could meet on equal terms. In this way, the communities that eventually lived in these houses built for families with children were formed in the course of the building process itself. Huth regarded the creation of personal living space as an essential part of individual inner life. A conception of "variety as principle" became essential to his practice.
44 years later, Gaisbacher and Reiterer analyze the influence of the self-designed environment on its inhabitants, which aspects of this radical architectural approach are still relevant for contemporary planning, and which formal-aesthetic ideas shaped the design of the blocks. In the course of in-depth conversations between Eilfried Huth and Doris Pollet-Kammerlander, Irmfried Windbichler and residents of the settlement, a documentary film was created.
Please also see the other project parts
My Dreamhouse is not a House (publication)
My Dreamhouse is not a House I
My Dreamhouse is not a House II